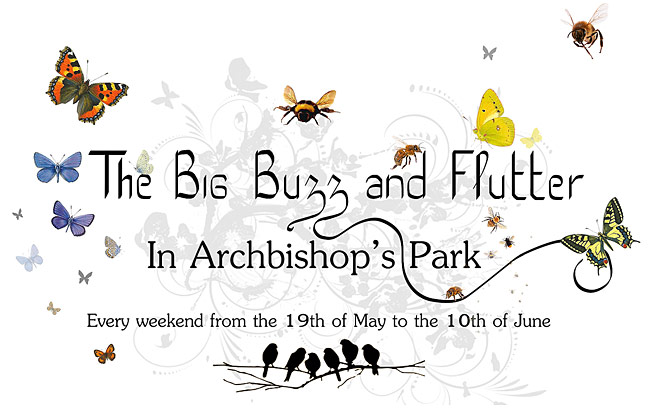 Caroline Perget (Landscape Architect) www.carolineperget.com and Wendy Cartwright (Garden Designer) www.wendycartwright.com are organising with the Friends of Archbishop's Park (http://www.wcdg.org.uk/foap/) a great way to celebrate wildlife.
From the 19th of May to the 10th of June, every weekend in Archbishop's Park, join us for free fun days around bees, butterflies and birds, accessible to everyone.
With the Big Buzz and Flutter we aim to make everyone aware of the role and benefit of the birds, bees and butterflies.
This is part of the Chelsea Fringe Events. The Chelsea Fringe festival is a brand new initiative, entirely volunteer-run in its first year. It's all about harnessing and spreading some of the excitement and energy that fizzes around gardens and gardening. The idea is to give people the freedom and opportunity to express themselves through the medium of plants and gardens, to open up possibilities and to allow full participation.
We feel passionately that we need to sustain wildlife not only in the countryside but within the urban environment. From the tiniest window box to the larger parks they all form a web of green pockets supporting groups of insects and birds.
We need to create and sustain projects that encourage the development of green corridors to entice the insects to move from one area to another. They all need our help in order to do this. Without them we would not have flowers or food.
Observing wildlife at your door step, enjoying the movement of birds, bees and butterflies in our gardens is really exciting and fun. We have to remember that losing any part of our wildlife could dramatically impact our well being. Wendy and Caroline strongly believe that designing private gardens as well as public spaces should be done with nature in mind to benefit us all in the long term.
The Friends of Archbishop's Park is a voluntary group supporting the regeneration of this small Victorian park next to Lambeth Palace. A lot has been done for the community and to support the wildlife. The park has gardens, sports facilities and in the last 5 years they have installed a fantastic children's playground, an educational zone, an apiary and an orchard.
This project supports a number of deserving wildlife charities and local associations that will be set-up in the Park. These include The Butterfly Conservation, The London Beekeepers Association, the RSPB and London's Buzzing.
Bee and birds specialists will be there to answer to your questions.
A lot of workshops and activities are planned around the theme such as face painting, quizzes, puzzles and colourings. There will also be a bumble bee workshop, a wildflower seed-bomb workshop, bird feeder workshops and planting workshops. The friends of Archbishop's Park will organise a lot of planting activities (planting cottage garden plants, lavender hedges and seeds amongst the vegetables) where you will learn a lot about nectar source plants.
There will be an observation bee hive so we can watch the bees at work, and try London's tasty honey. There will be a few bee and butterfly friendly plants for sale as well as some useful books about beekeeping, plants and sustainable gardening.
During the whole event we will also run a photography competition on the life of bees and butterflies within London to encourage people to observe the life of these insects within the city. There will be great prizes for the winners.
We hope you will come, enjoy and be so inspired you will go home and take action! We want everyone to participate in the loads of events in our Diary. For more information, follow us and check for dates and times and our calendar of activities on our Facebook page http://www.facebook.com/TheBigBuzzAndFlutter and on twitter.
Everyone together for a city full of Buzz and Flutter!